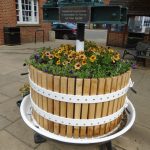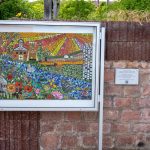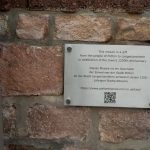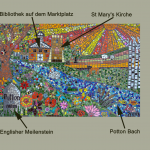 2019 saw the 1250th anniversary of the village of Langenlonsheim and to celebrate the occasion a total of five festival weekends were held throughout the year.
Our two communities have been twinned since 1986 during which time many fantastic exchanges have taken place and enduring relationships have developed. Potton has previously given gifts to Langenlonsheim and Langenlonsheim gave Potton the wine press.
As a gift to our twin town of Langenlonsheim to celebrate their 1250th Anniversary, Potton produced a mosaic with the help of its community, to present to them at the final celebration weekend at the end of August 2019.  The mosaic has now been installed in Pottonplatz.