Household budgets are being squeezed more and more as energy, fuel, inflation and food prices continue to soar. It's important everyone knows how to access support if they are struggling.
SUPPORT AND ADVICE
Are you worried about the cost of living crisis and the affect it is having on your food, energy and transport costs? You are not alone; many of us are struggling at this time.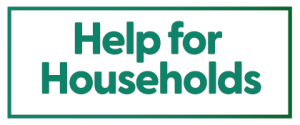 There's help with your energy bills and over forty other schemes you might be eligible for. Visit gov.uk/helpforhouseholds.
You can also click on the links below for more places you can get support and advice.
We've also included links to places where you can talk to someone about your worries and improve your wellbeing.
CHILDREN & OLDER PEOPLE
DEBT SUPPORT
ENERGY SUPPORT
FOOD SUPPORT
GENERAL HELP
HEALTH & WELLBEING SUPPORT
OTHER UTILITIES
WARM SPACES